CLICK IMAGE FOR NOISE: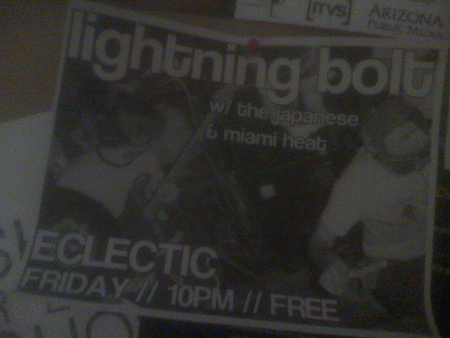 Birthed out of Rhode Island School of Design sometime in the '90s, Lightning Bolt consists of Brian on (cello-tuned) bass and Brian on drums. They play fast and furious noise [rock], and they play it loud – so loud I invested in some earplugs this morning (two for a buck at the Cardinal Technology Store!). I fully expect things to get real crazy real fast, though it remains to be seen if they will generate more sweat than Static Stamina did in Malcolm X House's basement last night.
As for the opening acts,The Japanese, who are in the running for the busiest band on campus this year (also contenders: fall semester Almonds and Elephants, Grandfather last weekend), are sharing that role with raucous punk duo The Parents, who are filling in for raucous punk quartet Miami Heat. Be there. Instead of marking shots on your arm, have someone sharpie your forehead for every bruise/sprain/hairline fracture/sickening crunch you sustain. Spoilers: You'll get a metric shit-ton.
Content from the opening acts, a color poster, and possibly more in the mysterious land beyond the jump…